[vc_row][vc_column width="1/1″][vc_column_text]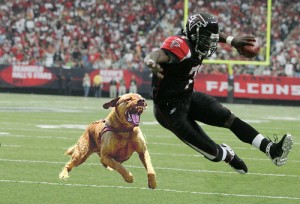 Michael Vick was not hospitalized in a pit bull attack, but a satire news report has convinced a large number of people that it was real.
The article was published on Empire Sports–which only publishes satire news.
"Does Michael Vick believe in Karma?" the article reads. "Well if he didn't before I'm sure he does now. Michael Vick was hospitalized in a pit bull attack in downtown Philadelphia this morning. When police investigated the scene they found at least 3 other pit bulls in cages although it didn't appear that the dogs had been used for fighting."
Before his latest stint with the Philadelphia Eagles, Vick famously served time in prison for taking part in a dog fighting ring that involved pit bulls.
The satire article was shared heavily on Facebook and Twitter.
Vick has been subjected to hoax reports in the past, including one that said he was dead.
Vick told reporters during last season that his teammates called him to find out if he was alright.
"LeSean (McCoy) and DeSean (Jackson) called me first to make sure I was OK," Vick told NJ.com in December. "Nobody really believed it, but everybody just called to make sure it was a hoax. It was weird."[/vc_column_text][/vc_column][/vc_row][vc_row][vc_column width="1/3″][vc_column_text] [/vc_column_text][/vc_column][vc_column width="1/3″][vc_column_text] [/vc_column_text][/vc_column][vc_column width="1/3″][vc_column_text] [/vc_column_text][/vc_column][/vc_row][vc_row][vc_column width="1/1″][vc_column_text]
Comments
comments
[/vc_column_text][/vc_column][/vc_row]